It was a red letter day, a day not to be forgotten in Owo Kingdom, as the ancient Kingdom rolled out the red carpet as it commissioned the multi million Naira  Sir Olateru Olagbegi Civic Centre .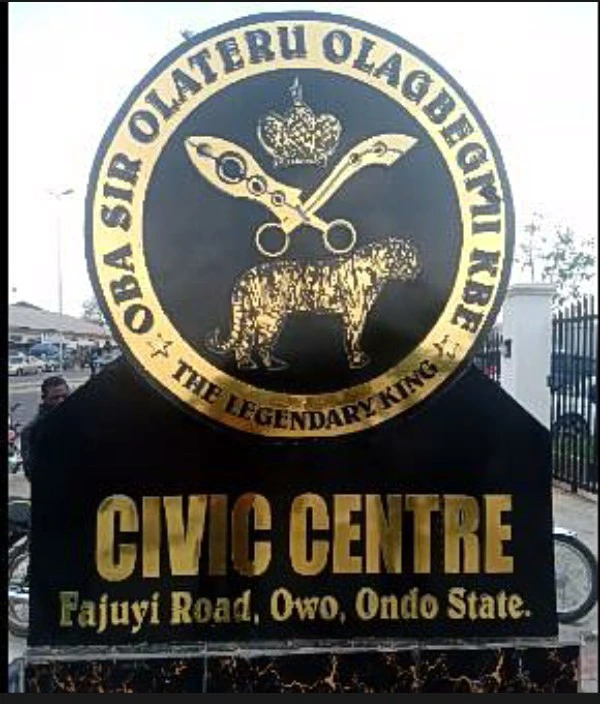 The beautiful social edifice is located at Government Primary School, close to the Palace of the Olowo.
It was built and funded by the estates of the late Olowo of Owo, Oba Sir Olateru Olagbegi 11 and dedicated to his memory and honour.
The hall was crafted in the best engineering skills under the co- project supervision of Engr Prince Olayiwola Ogunrinde, an Olagbegi Royal Prince, former Nigerian lawn Tennis Champion and a product of Aquinas College Akure.
The interior design, fittings and lightings of the Civic centre is superbly made for the taste of the royalty and the upper class of society.
As the Kingdom records an inspiring speed in development, this new edifice represents another milestone in that drive for modernization.
Oba Sir Olateru Olagbegi to whom the Civic Centre is dedicated in his honour, reigned as Olowo of Owo from1941 to 1966, before his suspension in 1966 and deposition in 1968.
A powerful and influential King in the First Republic Nigeria, wealthy, colourful and flamboyant, he was one of the earliest monarchs in the country to own the prestigious Rolls Royce Car – WQ1
Oba Olagbegi 11, was a Minister in the Western Region Government of Chief Obafemi Awolowo and one of the founders of Action Group political party of the First Republic Nigeria.
In fact, the AG party was founded at the Olowo's Palace in 1951, signposting the birth of progressive politics in the country.
Knighted and honoured by the Queen of England in 1960 as a Knight of the British Empire, KBE, Oba Olagbegi 11 served as the last President of Western Region Council of Obas and Chiefs.
With the record of raising the largest family in yorubaland, he was blessed with an impressive number of successful Children.
The record breaking king returned to the throne of Owo Kingdom in 1993 after 25 years, a rare feat in the history of Nigerian traditional Institution.
He reigned for another five years before his glorious transition in 1998.
Oba Sir Olateru Olagbegi 11 was succeeded on the throne in 1999 by his eldest Son, British trained lawyer, Oba Folagbade Olagbegi 111 who reigned for 20 years as Olowo before his glorious transition in year 2019.
As the Multi-Million Naira Civic Centre is opened for public use, kudos must be given to the Children of the late Oba Olagbegi 11 under the leadership of Olori Ebi, Professor Prince Adebamiji Olateru Olagbegi for sustaining the legacy of the late monarch.